This is my dear sweet hubby's most beloved grandma naomi's recipe it is simple, but my oh my is it good. It is traditional that if you live in the south, you usually have sweet potatoe pie along with the pumpkin pie. I loved mike's grandma pie just like I loved her, and think of her when I make this pie.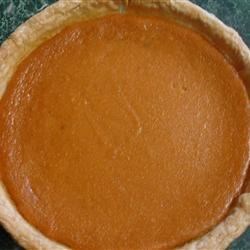 2 cups cooked and mashed sweet potatoes
2 tablespoons melted butter
1/2 teaspoon vanilla
2/3 cup sugar
1/3 teaspoon salt
3 eggs
1/2 teaspoon cinnamon
1/2 teaspoon nutmeg
1/2 cup cream ( I use evaporated milk if I don't have cream)
Preheat oven to 450°F.
Prick pie shell dough with fork before baking. Bake for about 10 minutes without filling.
Combine all ingredients in any order. Mix well with an electric hand mixer until all ingredients are smooth.
Pour filling into precooked pie shell and put into oven on 450 degrees for 10 minutes. Then reduce heat to 350 degrees and continue cooking for 35 minutes.
Serve warm with whipped topping or ice cream. Can also serve warm.
Enjoy! Serves 8-10